Wacom Tablet Dealers chennai, Hyderabad, tamilnadu
Wacom CTL 472 K0 CX Tablet
Size: small 210 x 146 x 8.7 mm / 8.3 x 5.7 x 0.3 in
Generation: 2 ND Generation
Product type: Creative Pen Tablet
Active area: 152.0 x 95.0 mm (6.0 x 3.7 in)
Weight: 250g,Pen: 9g
Color Front: Black
Color Back: Red
Technology: Patented electromagnetic resonance method
Stylus type: Pressure-sensitive, cordless, battery-free pen. (LP-190K)
Resolution: 2540 lpi
Pen pressure levels: 2048
Multi-touch: No
ExpressKeys: No
System requirements PC: Windows 7, 8.1 and 10, Mac: OS X 10.10 or later, Standard USB-A port, Internet access to download driver (for tablet to work)
Warranty: 1 Year Warranty
Rs.4690/-*
Wacom CTL 672 K0 CX Tablet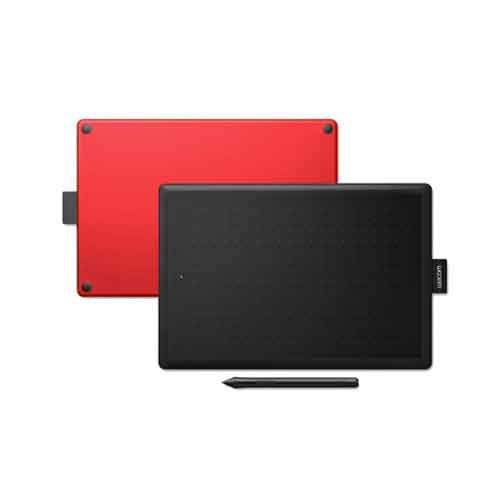 Size: medium 277 x 189 x 8.7 mm / 10.9 x 7.4 x 0.3 in
Generation: 2 ND Generation
Product type: Creative Pen Tablet
Active area: 216.0 x 135.0 mm (8.5 x 5.3 in)
Weight: 432g ,Pen: 9g
Color Front: Black
Color Back: Red
Technology: Patented electromagnetic resonance method
Stylus type: Pressure-sensitive, cordless, battery-free pen. (LP-190K)
Resolution: 2540 lpi
Pen pressure levels: 2048
Multi-touch: No
ExpressKeys: No
System requirements PC: Windows 7, 8.1 and 10, Mac: OS X 10.10 or later, Standard USB-A port, Internet access to download driver (for tablet to work)
Warranty: 1 Year Warranty
Rs.8090/-*
Wacom Intuos CTL 4100 K0 CX Tablet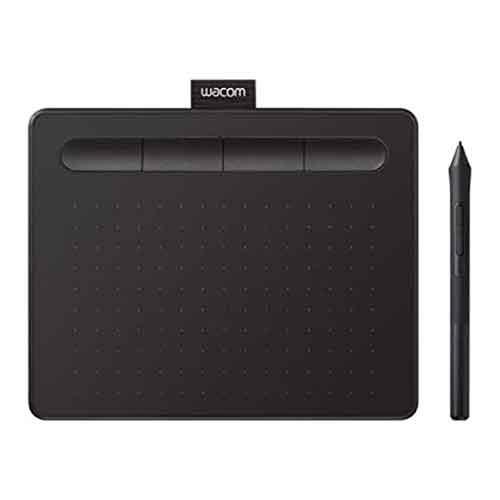 Size: small 200 x 160 x 8.8 mm / 7.87 x 6.3 x 0.35 in
Product type: Tablet with pressure-sensitive, cordless, battery-free pen
Active area: 152.0 x 95.0 mm (6.0 x 3.7 in)
Color: black
Multi-touch: No
Pressure Levels: 4096
Weight: 230g, Pen: 11.2g (0.4oz) including 3 nibs
Resolution: 2540 lpi
Pen: Wacom Pen 4K (LP-1100K)
Security: One tether slot
Technology: Patented electromagnetic resonance method
Warranty: 1 Year Warranty
Rs.7390/-*
Wacom Intuos CTL 4100 K0 CX Bluetooth Tablet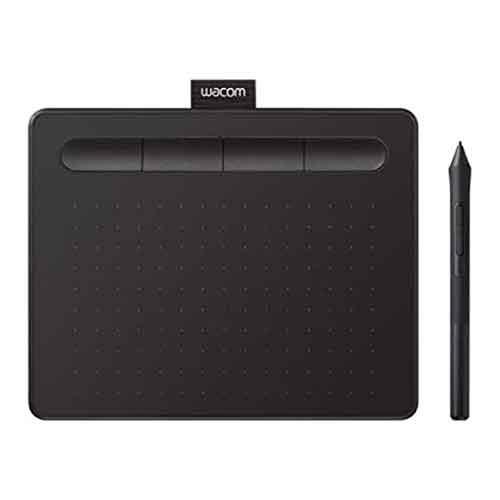 Size: small +Bluetooth 200 x 160 x 8.8 mm / 7.87 x 6.3 x 0.35 in
Product type: Tablet with pressure-sensitive, cordless, battery-free pen
Active area: 152.0 x 95.0 mm (6.0 x 3.7 in)
Color: (black, pistachio green, berry pink)
Multi-touch: No
Pressure Levels: 4096
Weight: Small Tablet with Bluetooth (CTL-4100WL): 250g (8.8 oz), Pen: 11.2g (0.4oz) including 3 nibs
Resolution: 2540 lpi
Pen: Wacom Pen 4K (LP-1100K)
Security: One tether slot
Technology: Patented electromagnetic resonance method
Warranty: 1 Year Warranty
Rs.9490/-*
Wacom Intuos CTL 6100WL K0 CX Bluetooth Tablet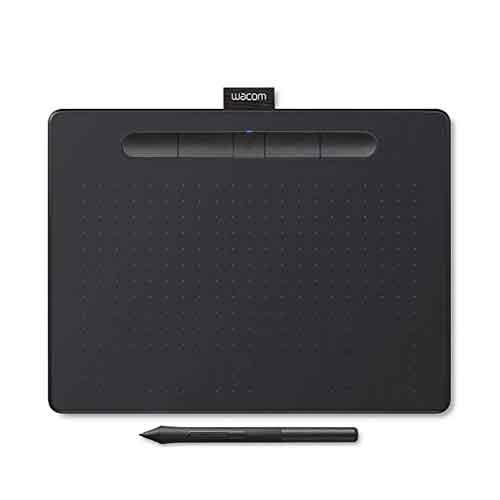 Size: Medium CTL-6100WL (Bluetooth model)
Product type: Tablet with pressure-sensitive, cordless, battery-free pen
Active area: Medium: 216.0 x 135.0 mm (8.5 x 5.3 in)
Color: (black, pistachio green, berry pink)
Multi-touch: No
Pressure Levels: 4096
Weight: Medium Tablet with Bluetooth (CTL-6100WL): 410g (14.5 oz), Pen: 11.2g (0.4oz) including 3 nibs
Resolution: 2540 lpi
Pen: Wacom Pen 4K (LP-1100K)
Security: One tether slot
Technology: Patented electromagnetic resonance method
Warranty: 1 Year Warranty
Rs.16880/-*
Wacom Intuos Pro Medium PTH 660 K0 CX Tablet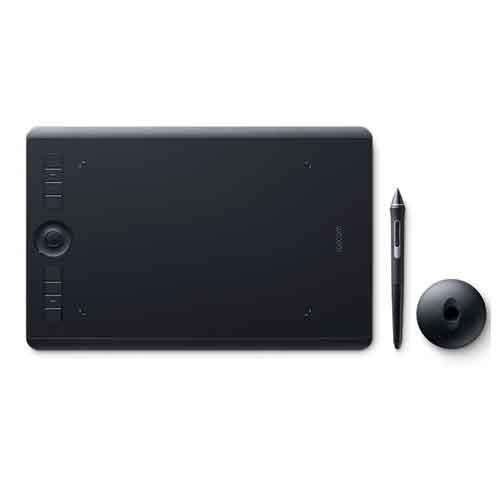 Product type: Creative Pen Tablet
Size Medium: 338 x 219 x 8 mm / 13.2 x 8.5 x 0.3 in
Active area: Medium: 224 x 148 mm / 8.7 x 5.8 in
Weight Medium: 700 g / 1.54 lb
Color: Black
Stylus: Wacom Pro Pen 2
Stylus type: Pressure-sensitive, cordless, battery-free
Technology: Patented electromagnetic resonance method
Pen pressure levels: 8192, both pen tip and eraser
Resolution: 5080 lpi
Switches: 2 side switches on pen
Grip: Latex-free silicone rubber (Pro Pen 2)
Desktop pen stand: Yes
Replacement nibs: 10 Pro Pen 2 nibs (6 standard and 4 felt nibs in pen stand)
Multi-touch: Yes - Touch on/off switch on tablet
Cable included: - 2 m (6.6 ft) PVC-free USB cable
Warranty: 1 Year Warranty
Rs.30690/-*
Wacom Intuos Pro Paper Edition PTH 660 K1 CX Tablet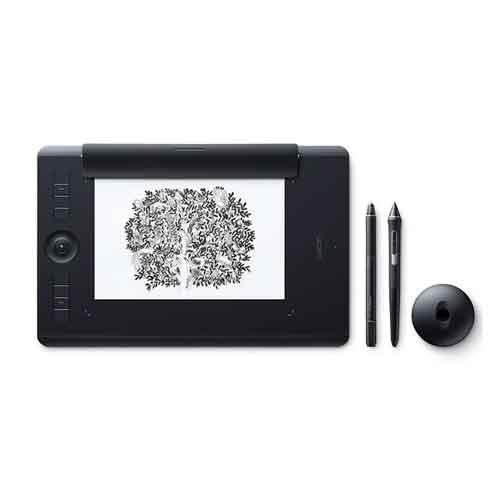 Product type: Creative Pen Tablet
Size Medium: 338 x 219 x 8 mm / 13.2 x 8.5 x 0.3 in
Active area: Medium: 224 x 148 mm / 8.7 x 5.8 in
Weight Medium: 700 g / 1.54 lb
Color: Black
Stylus: Wacom Pro Pen 2
Stylus type: Pressure-sensitive, cordless, battery-free
Technology: Patented electromagnetic resonance method
Pen pressure levels: 8192, both pen tip and eraser
Resolution: 5080 lpi
Switches: 2 side switches on pen
Grip: Latex-free silicone rubber (Pro Pen 2)
Desktop pen stand: Yes
Replacement nibs: 10 Pro Pen 2 nibs (6 standard and 4 felt nibs in pen stand)
Multi-touch: Yes - Touch on/off switch on tablet
Cable included: - 2 m (6.6 ft) PVC-free USB cable
Warranty: 1 Year Warranty
Rs.33290/-*
Wacom Intuos Pro Large Paper Edition PTH 860 K1 CX Tablet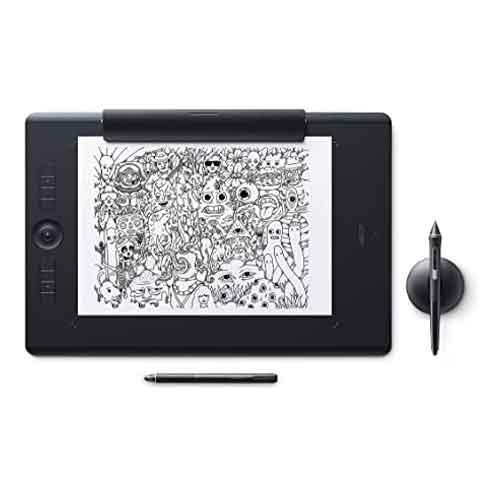 Product type: Creative Pen Tablet
Size Large: 430 x 287 x 8 mm / 16.8 x 11.2 x 0.3 in
Active area: Large: 311 x 216 mm / 12.1 x 8.4 in
Weight Large: 1300 g / 2.86 lb
Color: Black
Stylus: Wacom Pro Pen 2
Touch ring: Yes
Stylus type: Pressure-sensitive, cordless, battery-free
Technology: Patented electromagnetic resonance method
Pen pressure levels: 8192, both pen tip and eraser
Resolution: 5080 lpi
Switches: 2 side switches on pen
Grip: Latex-free silicone rubber (Pro Pen 2)
Desktop pen stand: Yes
Replacement nibs: 10 Pro Pen 2 nibs (6 standard and 4 felt nibs in pen stand)
Multi-touch: Yes - Touch on/off switch on tablet
Cable included: - 2 m (6.6 ft) PVC-free USB cable
Max of pages stored (for Paper Edition models): 200 pages with unlimited layers on tablet memory - no connection necessary
To work in paper mode, Wacom Finetip or Ballpoint pen are required
Warranty: 1 Year Warranty
Rs.40390/-*
Wacom Intuos Pro Small PTH 460 K0 CX Tablet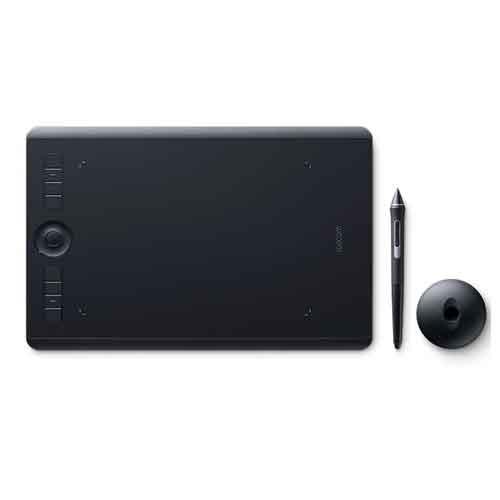 Product type: Creative Pen Tablet
Size Small: 269 x 170 x 8.45 mm / 10.6 x 6.7 x 0.3 in
Active Small: 160 x 100 mm / 6.3 x 3.9 in
Weight Small: 450 g / 0.99 lb
Color: Black
Stylus: Wacom Pro Pen 2
Touch ring: Yes
Stylus type: Pressure-sensitive, cordless, battery-free
Technology: Patented electromagnetic resonance method
Pen pressure levels: 8192, both pen tip and eraser
Resolution: 5080 lpi
Switches; 2 side switches on pen
Grip: Latex-free silicone rubber (Pro Pen 2)
Desktop pen stand: Yes
Replacement nibs: 10 Pro Pen 2 nibs (6 standard and 4 felt nibs in pen stand)
Multi-touch; Yes - Touch on/off switch on tablet
Cable included: - 2 m (6.6 ft) PVC-free USB cable
Max of pages stored (for Paper Edition models): 200 pages with unlimited layers on tablet memory - no connection necessary
To work in paper mode, Wacom Finetip or Ballpoint pen are required
Warranty: 1 Year Warranty
Rs.23990/-*
Wacom DTC133W0C One Digital Drawing Tablet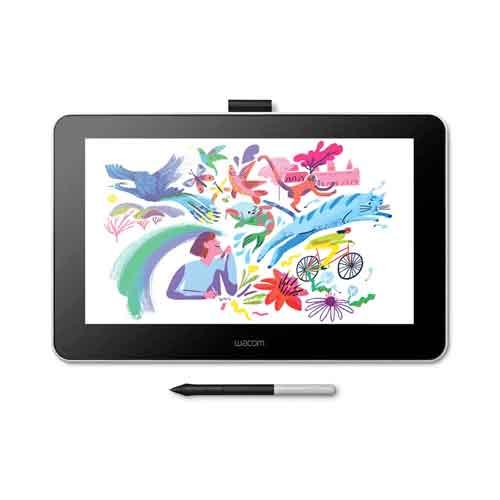 Product type: Creative Pen Display
Product Dimensions (L x W x H): -225 x 357 x 14.6 mm, 8.9 x 14.1 x 0.6 in
Product Weight: 1.0 kg
Stand Adjustability: 19 degrees using built-in, fold-out legs
Power Consumption: Power ON mode (MAX): less than 10 W
Power OFF mode: 0.5 W or lower, Power sleep mode: 0.5 W or lower
Power Supply Input: 100 to 240 VAC, 50/60Hz
Power Supply Output: 5 VDC, 2A
Product color; Flint White
Screen Size (measured diagonally); 13.3 inch
Display Resolution: 1920 x 1080 pixels
Display Technology: AHVA
Surface: AG film
Color Depth: 8bit
Aspect Ratio: 16:9
Viewing Angle: 170 deg. (85/85)H / 170 deg. (85/85)V (typ)
Contrast Ratio: 1000:1 (typ)
White luminance uniformity: 80% (typ)
Pixel pitch: 0.1533(H)X 0.1533 (V) mm
Brightness: 200 cd/m2 (typ)
Response Time: 26m sec (typ)
Active Area: 11.6 x 6.5 in
Pen Type: Pressure-sensitive, cordless, battery-free
Pen Technology: EMR
Pen Pressure Levels: 4096
Hardware Requirements: HDMI port and standard USB-A port
I/O Ports: 1 x Display Connector
Input Video Connector: Display connector
Input Video Signal: HDMI
System Requirements: Windows 7 & later
Mac OS 10.13 & later
Rs.38990/-*
Wacom Cintiq 16 Tablet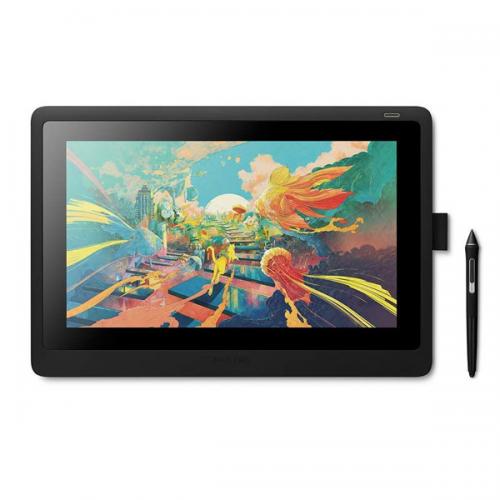 Screen size: 15.6 inch

Screen Resolution: 1920x1080 (full HD)

Display: 422 x 285 x 24.5mm/16.6 x 11.2 x 1.0 inches

Color: Black, Blue

Compatibility: Mac OS, Windows 10, Windows OS

Connectivity: Wired, Wireless

Features: Programmable, Tilt-sensitive, With Anti-glare, With LCD Screen, With Stand

Pressure Sensitivity: Level 8192

General Resolution: 5,080 lpi

Type: Touch

Pen: Wacom Pro Pen 2

Pressure Levels: 8,192

Weight: 1.9 kg without optional stand

Ports: HDMI/USB out
Call for Best Price
Wacom Cintiq 22 Tablet
Color: Black

Compatibility: Mac OS, Windows 10, Windows OS

Connectivity: Wired, Wireless, HDMI port, standard USB port.

Features: Programmable, Tilt-sensitive, With Anti-glare, With LCD Screen, With Stand

Pressure Sensitivity: Level 8192

General Resolution: 5,080 lpi

Type: Touch

Display Size / Resolution: 21.5 inch (54.6 cm) / Full HD 1920 x 1080.

Pen: Pro Pen 2

Drawing angles: 16-82 degrees using included Wacom Adjustable Stand.

Weight: 12.3 lbs without stand (around 5.5 kg) without stand.
Call for Best Price
Wacom Cintiq Pro 24 Tablet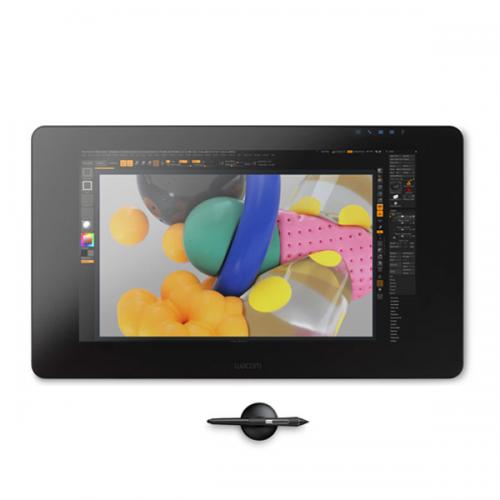 Product Type: Creative Pen Display 24

Model number: DTK2420 creative pen display

Size: 677 x 394 x 47 mm (26.65 x 15.5 x 1.9 inch)

Weight: 7 kg (15.43 lbs) without optional stand

Screen Size (Measured Diagonally): 59.94 cm / 23.59 in

Active Area: 522 X 294 mm (20.55 X 11.57 inch) Adobe RGB at CIE1931

Coverage Ratio: 99%

Multi-Touch: No

Pressure Levels: 8192, both pen tip and eraser

Resolution: 5080 lpi

ExpressKeys™: 17 customizable, application-specific on included ExpressKey™ Remote

Touch Ring: Yes - on included ExpressKey Remote

Rocker Ring And Home Button: Yes - on included ExpressKey Remote

Radial Menu: Yes

Precision Mode: Yes

Display Toggle: Yes

Dedicated Pan, Scroll, Zoom, Brush Size: Yes

Ports included: 4 x USB3 ports 1 x USB C port 1 x HDMI2.0 port 1 x DP port 2 USB-A Ports (one for Express Key Remote dongle)
Call for Best Price
Wacom Cintiq pro 16 Tablet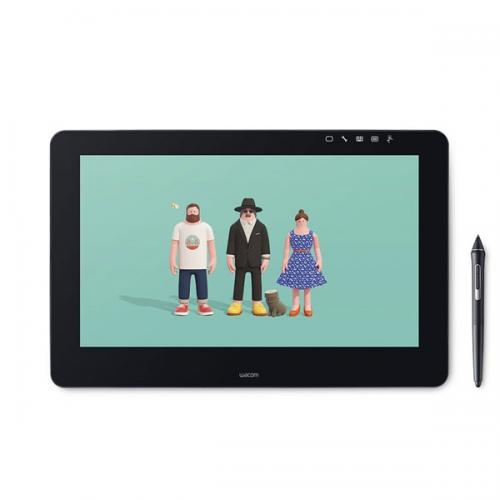 Model no: DTH167 creative pen & Touch display

Display size/ Resolution: 15.6 inch/ 4k

Color performance: 98% Adobe RGB

Connectivity: USB port-C with Display port alternate mode or HDMI port and USB- A port

Multi- Touch: Yes/Pan, Zoom & rotate gestures available in most applications including Adobe photoshoot & illustrator

Productivity Boosters: Built-in Expresskeys-Yes fully customizable keys

Pen Tilt recognition/Range: +60 levels/60 Degrees/Pro pen2 with 8192 pen pressure levels

Express key remote(optional): 17 customizable, application-specific Express keys, Touch Ring, Rocker ring/ Home button. precision mode, Display Toggle, Radial Menu& dedicated pan, scroll, Zoom, brush size, time-saving on screen settings, on-screen keypad and radial menu
Call for Best Price